Outlaw & Renegade
Ranch
Presents
"Quillos Wind Storm"
Click thumbnails to see larger photos.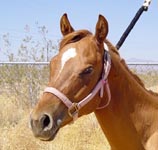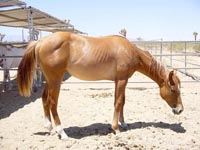 Photos as yearling in pasture condition.
(more photos coming)

2003 Red Dun AQHA Stallion
Skips Quillo
Sorrel AQHA


Skippers Ring
AQHA

Skipper's Sport
By
Skips Bid
Skip N Ring
By
Skips Chant
Skips Min
AQHA
Skip's Barber
By
Skippa Lark
Skip Millie
By
Skipador

Dooleys Brown Sugar
Dun AQHA

Dooley Appointed
AQHA

Dan Dooley
By
Sir Quincy Dan
Chocolate Duet
By
Chocolate Dart
Silver Bar Rita
AQHA
Skippa Ward
By
Skipa Skip
Silver Bar Rita
By
Diamond Dictator
His Sire "Skips Quillo" was a 92 Branded Wiescamp stallion and 3/4 brother to "Skipper Zane" (the stallion who sold for $400,000.00 at the Hank Wiescamp estate sale in June of 1998, and was in the #1 stud position)!!
Unfortunately Quillo was killed in an accident in the summer of 2002. "Storm" is only one of four standing sons of Quillo and the only Dun sired by him.

Storms Dam is our own "Dooleys Brown Sugar" she is a Granddaughter of Skippa Ward (Branded Wiescamp) on her dams side and Dan Dooley by Sir Quincy Dan on her sire's side. She has the prettiest head around and a great disposition.

Sorry at this time Storm will not be standing to the public.


Outlaw & Renegade Ranch
Leslie Baird
(760) 364-3991
Last Updated 08/12/05