Mares

SBR Peekaboo
"Boo"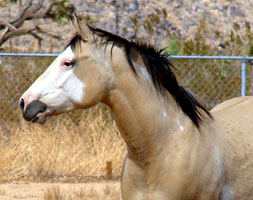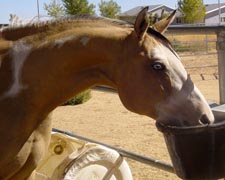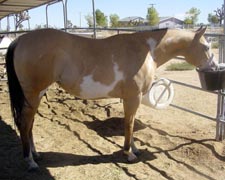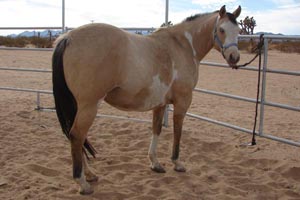 2003 Registered Buckskin Overo (confirmed Dunskin)
Sire: Slick Tation (Dunskin)
Dam: SBR Exhilaration (Bay Overo)
Boo gave birth on March 17th, 2007 to a gorgeous overo filly out of
CR Gunner N Gold, a Palomino Tobiano proudly owned by Dave and Teri McCormick
of the Cactus Rose Ranch. See Pics of the new filly right below.

LawGade's Lucky Charm
"Charm"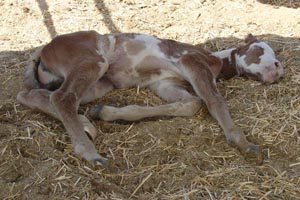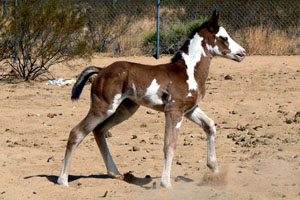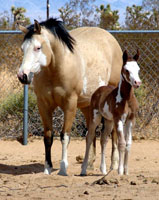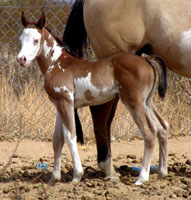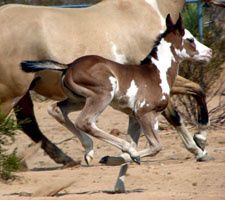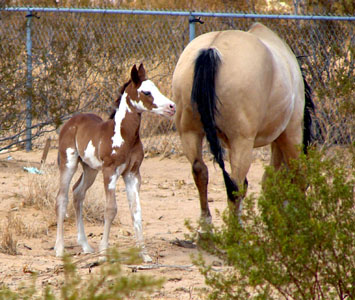 ( 1st photo taken at 3hrs old, all others taken at 6 days old )
2007 Bay (possibly buckskin) Overo Filly
Sire: CR Gunner N Gold ( Palomino Tobiano )
Dam: SBR Peekaboo ( Dunskin Overo )
Charm was born on Saint Patricks Day and she is a real charmer, hence her name.
She is now living with her new mom and dad, Cathi and Don Harrington in Morongo Valley, Ca.


Robins ShadedTears
"Blaze"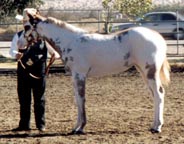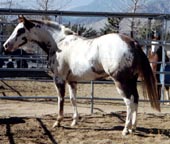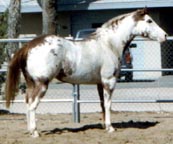 1996 Red Roan Overo
Sire: Gotta Wear Shades ( Chestnut Overo )
Dam: Quick M Robin ( Sorrel Overo )
Available for Feed Lease to Experienced horseperson for Halter Showing or
a trainer looking for a worthwhile challenge. Not available for breeding.
Must be within hour drive of my home.

1984 Sorrel APHA/AQHA
Sire: Sonny Go Dell ( Chestnut AQHA ) Superior Halter
Dam: Fame Tambourine ( Sorrel AQHA ) Line bred Skipper W
Now living with my parents enjoying retirement and the occational light trail ride.

Dooleys Brown Sugar
"Sugar"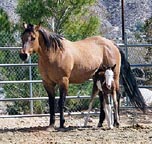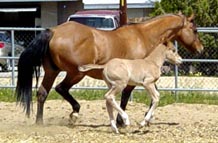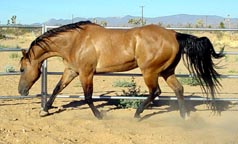 1991 Dun AQHA
Sire: Dooley Appointed ( Brown AQHA )
Dam: Silver Skip Rita ( Palomino/Dun AQHA )
Sold to Kimberly Mcgowan

Gotta Wear CindyLuWho
"Brandi"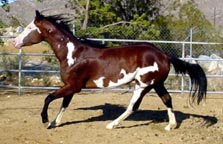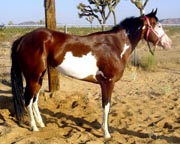 2001 Bay Overo
Sire: Gotta Wear Shades ( Chestnut Overo )
Dam: Dooleys Brown Sugar ( Dun AQHA )
Sold to Donn Fuentes in San Diego


LawGade Aussies

Puppies



Memories

Links


Last Updated 03/24/07